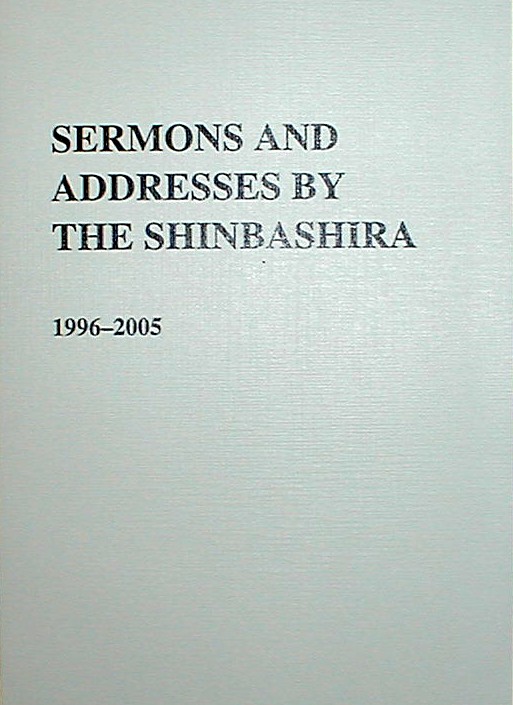 SERMONS AND ADDRESSES BY THE SHINBASHIRA
1996-2005

This book is a collection of all our published English translations of the Shinbashira's speeches and Instructions spanning the past decade starting at the 110th Anniversary of Oyasama.* These translations originally appeared in our monthly newspaper, Tenrikyo; the Women's Association magazine Michi no Dai: Foundation of the Path; and the Young Men's Association magazine Arakitoryo: Pioneers of the Path.

The author of the speeches preceding the Inauguration Service for the present Shinbashira, Zenji Nakayama--which took place on October 25, 1998--is the former Shinbashira, Zenye Nakayama.

Most of the speeches contained in this volume are sermons delivered at the Spring and Autumn Grand Services and addresses given at the annual conventions of the Women's Association and the Young Men's Association. The remaining three speeches are the sermon at the Oyasama 110th Anniversary Service, the address at Stage Three of the Church Head Ministers Seminar for the 160th Year of Tenrikyo, and the Shinbashira's inaugural address.

The book also includes Instruction One and Instruction Two, announced by the present Shinbashira on October 25, 1998, and October 26, 2002, respectively.

The preparation of this volume has involved some corrections and minor revisions.

--from Foreword

* This book was first published on January 26, 2006.