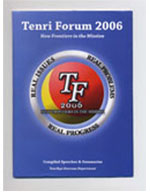 Tenri Forum 2006: New Frontiers in the Mission

Tenri Forum 2006: New Frontiers in the Mission, which was recently published by Tenrikyo Overseas Department, presents the proceedings of Tenri Forum 2006, held in the Home of the Parent in July three years ago. The 613-page book contains all plenary addresses and other presentations, as well as summaries of discussion sessions. In addition to providing a historical record of the forum, the volume can serve as a valuable resource in addressing a range of key issues facing the world today.

Tenri Forum 2006 was organized as one of the major events to mark the year of the 120th Anniversary of Oyasama. Featuring four plenary addresses, 26 section meetings, eight regional meetings, and a symposium, this forum was an international gathering of minds brought together to discuss and reflect upon fresh and innovative ways to help expand the path into new frontiers.

Those who wish to obtain a copy of this book may contact Takaharu Ichise (ichise51@tenrikyo.or.jp) or Tomoharu Matsui (matsui@tenrikyo.or.jp), both of whom work at the North America and Oceania Section of the Overseas Department. Alternatively, requests can be sent to mission headquarters, mission centers, and other such facilities. The donation for each copy is ¥1,000 or US$10.